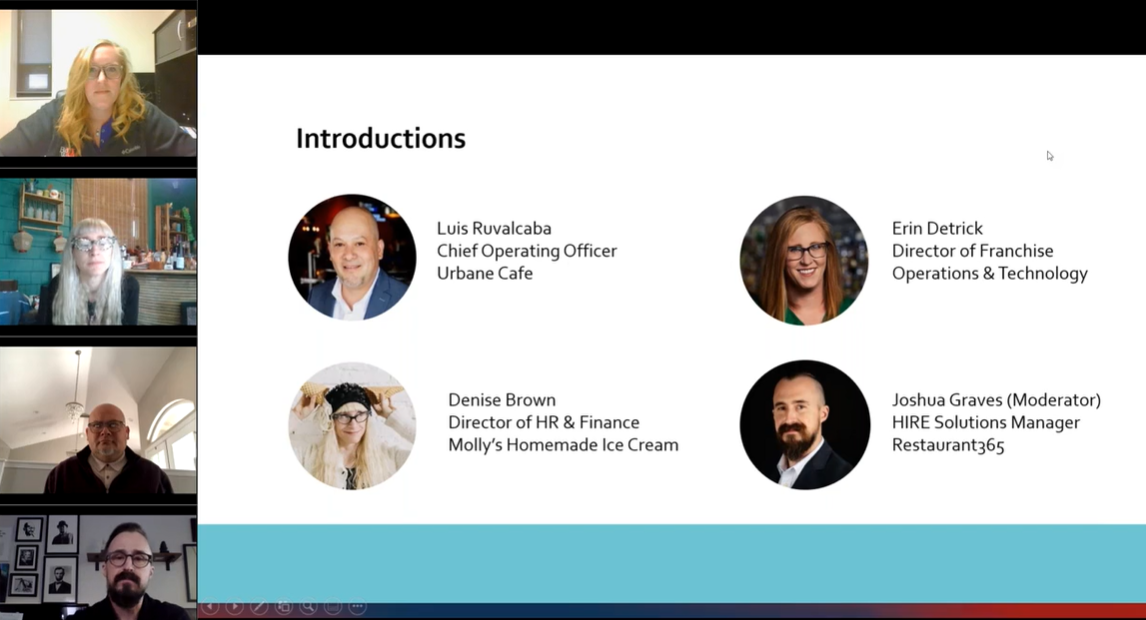 Last week our team attended an invaluable webinar, "Overcoming Hiring Challenges" hosted by Restaurant365. They had a moderator and three panelists, all of which have extensive experience and backgrounds in the restaurant industry with a mix of quick serve and full service restaurants. We are in uncharted times when it comes to employment and the challenges that restaurant owners and small business owners alike are facing with attracting, hiring and retaining hourly workers.
The panelists were:
Hiring Strategies & Hiring Shortages
The moderator started out by asking each panelist, "What hiring strategies have you seen the most success in?". Luis Ruvalcaba explained that understanding what your needs are on a shift by shift basis instead of looking at what you think by need on a position basis has been a game changer. You shouldn't be so focused on "looking for rock stars, you have to be ready to develop those rock stars, it's a change in attitude".
The market has changed from an "employer to an employee market" and you now must shift your focus and model to revolve around people instead of product or profits. Luis' key initiative is to follow these five stages of hiring: attraction, selection, development, promotion, and retention.
Denise of Molly's Homemade Ice Cream said that she is "focused on recruiting at the entry-level and developing their employees". Her team has a recruiting person that is out in the community making connections with high school career counselors, as well as making partnerships with community development organizations for people that may have some barriers to work. She says that they also have marketing materials at all of their shops that highlight the benefits of working at their restaurant.
Career Path Growth & Employee Benefits
Gone are the days where you can get away with a revolving door of candidates. In order to attract and retain good employees, these restaurant executives realized they needed to bulk up what they were doing to keep quality candidates. Erin, from Big Whiskey's American Restaurant & Bar stated that most of their top employees started out at minimum wage entry-level positions and with the help of their employee retention program, these employees were able to grow from dishwashers to general managers. They also started offering sign on bonuses which has helped them get through their busy season and takes away the stress of the "revolving door".
On top of sign-on bonuses, a lot of quick service restaurants are also offering "stay bonuses" for active employees. One company has even started offering their hourly employees at their quick service restaurant health insurance. They believe that by going above and beyond what normal quick serve restaurants offer their employees, that they've been able to attract more qualified, eager candidates. Molly's Homemade Ice Cream started offering a "free scoop" card to all applicants, which has helped to get potential employees into their shops with their families and experience the atmosphere that they have created for their brand.
Leveraging Technology with Applicants
There was an overwhelming agreement that using technology for the hiring process has become more important than ever before. Specifically mentioning that applicant tracking systems are a must for quick serve and full service restaurants. Utilizing an ATS will help you get applicants through the process quicker both from an employee and employer perspective. Don't forget, every single applicant counts, so treat each of them with the kindness and respect that they all deserve.
A lot of employers are also now communicating with potential candidates via text, and say they have seen a much better response rate with text versus calling. Zoom interviews for hourly employees have also been clutch, especially during the pandemic but some said they plan to keep doing interviews via Zoom due to efficiency.
Social media is another big aspect of these restaurants' hiring strategies. One company said they now post all of their open jobs through videos on TikTok, which they can easily link back to their job listing.
All agreed that having a true digital presence for your restaurant is vital in today's hiring age. You need to be where your target audience is, and social media, specifically TikTok and Instagram is where you need to be. These brands aren't just posting jobs, though, they are also actively promoting their unique company culture and the family that they have cultivated within the brand.
Retaining Restaurant Employees
You've worked incredibly hard to hire new employees, but the work is not done. All of the restaurant executives in this webinar talked about how important it is to go above and beyond when it comes to treating your employees like family, with respect and opportunities to grow within the company. When asked what they are doing to actively retain their hourly employees, they mentioned:
Celebrating culture #workfam
Flexible schedules
Referral bonuses
Owners willing to help ALL employees
Inclusive environments
Inviting feedback
Engagement surveys and making changes accordingly
Professional development, trainings
Are you a restaurant owner or small business owner struggling with hiring hourly employees? Try out Symply's free hiring app which enables you to create job applications and equips you with an applicant tracking system, making it easy to hire in a few clicks.